Literary Guest of Honor: Steven Barnes
by Tananarive Due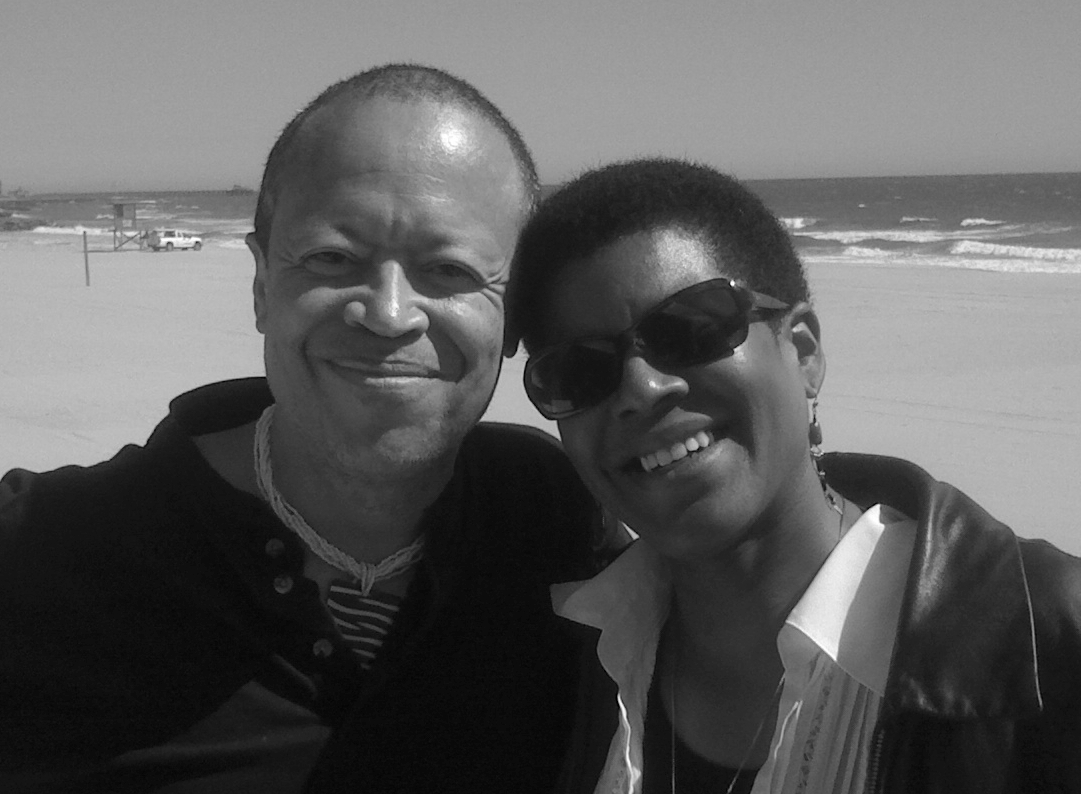 In 1997, a writer friend of mine told me I must meet Steven Barnes.
At the time, I was a newly-published author still learning my way around the world of speculative fiction—and my friend told me legends of Steven Barnes. Note the plural: Successful television writer who had written teleplays for The Outer Limits. Novelist, and coauthor with Larry Niven and Jerry Pournelle. Bodybuilder. Multiple black belt.
At this point, I became wary. Why would he ever want to meet me—a mere mortal?
And then I saw an episode of The Outer Limits starring Amanda Plummer: about a scientist who invents a time machine so she can go back in time to kill serial killers before they can strike. I missed the opening credits, but I thought it was brilliantly written. I said to my friend, "If Steven Barnes writes for that show, I'd love to meet him."
I described the episode, and my friend exclaimed: "That's Steven Barnes's episode!"
Indeed, "A Stitch in Time" proved to be such a producer and fan favorite that the series brought back the characters for the series Finale. It was nominated for a Cable Ace Award, and won an Emmy for Amanda Plummer.
And then when I met Steve only weeks later at a speculative fiction conference in Atlanta, I realized that his accomplishments, in many ways, are the least of him.
Sure, Steve has published more than 20 novels. And has written at least a dozen teleplays, including episodes of The Outer Limits, The Twilight Zone, Andromeda, and Baywatch. Last year, he and I both won an NAACP Image Award for the mystery series we co-author in partnership with actor Blair Underwood. He's also been nominated for Hugo and Nebula Awards. And has lectured at the Smithsonian and Mensa. And is currently writing a science fiction collaboration with National Book Award winner Charles Johnson.
He's so much more than his multiple belts in the martial arts. And his work as a screenwriting lecturer and life coach.
The first time I heard Steve speak, I could almost see a literal glow about him from his aura because of the passion of his sharing and the depth of his storytelling. Steve is a master at connection: he opens his own veins and plugs them to yours, and before you know it, you've told him your life story.
Steve is a world-class author, but he's also a world-class citizen. He's a citizen in the sense that he cares deeply about maintaining a sense of community, and he has spent his adult life trying to help writers, readers, students and clients and their deepest wellspring of potential so they can manifest in the world. He has counseled executives, royalty, prominent politicians, and Hollywood celebrities at the Moonview Sanctuary in Santa Monica, and he currently offers a popular program to beat fear at his website, fearmasters.com.
"Up, sluggard, and waste not life; in the grave will be sleeping enough!" Benjamin Franklin once said, one of Steve's favorite quotes.
Steve is a human growth potential pioneer, and he is his first glorious experiment. With a combination of yoga, martial arts, kettlebells and highly refined exercise programs, intermittent fasting, and plain insane discipline, it's almost as if Steve has sent time itself scurrying for cover. People can't help ask, "What are you doing?" so he can help shine the way for others.
Steven Barnes is one of my favorite people, and not just because he's my husband. He has a razor sharp sense of humor, he doesn't take himself too seriously, he can identify any piece of music from any album ever released, ever…and he looks great in a tuxedo.
Beyond that, he is among the truly good guys in both publishing and the world at large, and he has taught me and countless others more than I can say. Watch him carefully: You'll see the same glow I did.
Tananarive Due (Mrs. Steven Barnes)
Originally published in the Program Book for Windycon XXXVII, held in Lombard, IL in 2010. Steven Barnes was the Literary Guest of Honor.