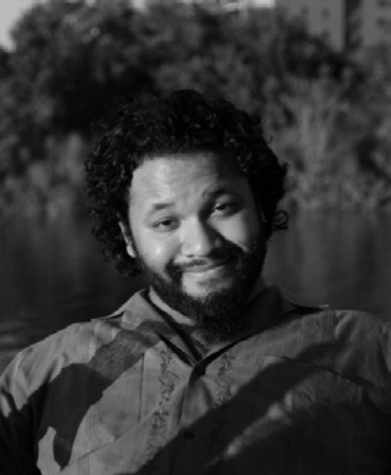 Pablo Miguel Alberto Vazquez III
Fan Guest of Honor Appreciation
by Mark Oshiro
Itís fitting that my first major SF/F convention was also the first time I crossed paths with Pablo Miguel Alberto Vazquez III. I was mortified walking into the Henry B. Gonzalez Convention Center for a few reasons, and the newness of the experience was part of that. But as Pablo will easily tell, it can be a daunting experience entering a new community when you look like we do or you love as we do. I think we were lucky, then, to end up in a place where we both met not only each other, but a whole host of people who we can say are integral parts of our lives.
Our friendship blossomed from there, and Iíve lost track of how many conventions Iíve been to where Iíve gotten to rush down a hallway and give Pablo a hug. Itís nice seeing a familiar face, sure, but Pabloís charisma, humor, and willingness to talk about literally anything makes him a joy to be around. He was there for my first WorldCon. He was there for my first visit to a Whataburger, where he goaded me into trying multiple menu items in a single sitting. (He has since supported every single effort Iíve ever made concerning that beautiful, beautiful fast food chain.) And heís been at numerous of my readings, convention appearances, panelsÖ you name it, and heís found a way to support me.
This last summer, I got the chance to road trip with him while I was on tour. I was heading down to San Antonio, and he offered to drive myself and my partner down there from Austin. The ride itself was so memorable to me because it typified Pabloís personality and style. We spoke candidly of music, underground hip-hop specifically, and we talked of politics and sexuality and science fiction. We jumped from topic to topic frequently, and sometimes, weíd look out at the landscape that rushed by us as we headed south. He gave up an entire day just to do this for me. We ended up going out to a few gay bars in San Antonio (which were surprisingly good for a Tuesday night), he dropped my partner and me off, and he still drove over an hour to get back home.
I was thrilled, then, that I got to help him publish his first paid piece in last yearís special issue of Lightspeed magazine, Queers Destroy Science Fiction! His personality and style is direct, and I wanted a voice in my nonfiction selection that spoke straightforward about what the science fiction community needed. I believe thatís why Pablo matters to this community. For all his kindness and charm, heís also honest about the state of this community, and we need that. The two of us are often brutal with one another (ask us about Kayak), but that comes from a place of respect and adoration. I think you can see this same dynamic in the way that Pablo operates as a fan and a creator, and itís why Iím so thrilled heís being recognized for it at Arisia.
Originally published for Arisia, Jan 2016 in Boston, MA. Pablo Vazquez was the Fan Guest of Honor.