Alice Bentley: Behind the Neon Rocket
By Bill Higgins
When I first encountered Chicago fans, Alice Insley seemed to know everybody. Thursday Night Fandom. General Technics. The Dorsai. Moebius Theatre. It's not an exaggeration to say that Alice's friends became my friends. She moved to Champaign. I acquired Champaign friends. She moved to Rochester. I acquired Rochester friends.
She married Mike Bentley, a born programmer with an impish grin, and became Alice Bentley.
She had a head full of ideas and she was happy to share them. Some say you could always tell a project was about to start when you heard Alice ask, "How hard could it be?" She organized parties. She drew for fanzines. She acted in comedies. She studied physics. Most of all, she went to cons. Lots of cons.
Alice was at Capricon 1. She was just helping out with a few things then. She kept returning, and kept on helping. Publications. Registration. Inevitably, she chaired a Capricon. And chaired again. And chaired again.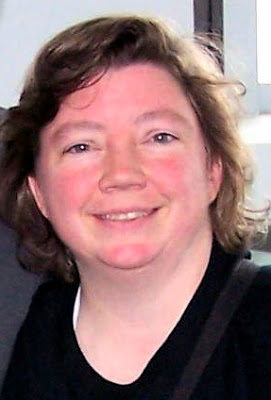 Little did we know in those days that she was just getting warmed up.
Upon returning from Rochester, Alice got a job as a beamslinger at Fermilab. The world's biggest particle accelerator was under the control of someone not quite five feet tall. She was good at it, but after smashing atoms for a few years, she had other plans.
In 1988, in the window of a storefront on Clark Street, a neon rocket appeared: the perfect way to advertise "Science Fiction Sold Here." Teaming up with Minneapolis's book maven Greg Ketter, Alice opened The Stars Our Destination.
It was the greatest bookstore ever.
TSOD's goal was to stock every science fiction and fantasy book in print. And a lot of comics. And a lot of horror. And some nonfiction.
And action figures and card games and odds and ends. And a whole lot of used SF books. I loved it.
Authors came to read aloud and autograph. Gamers gamed in the back. Writing groups met. Suburbanites swapped book recommendations with urban bohemians. Convention-goers smoffed in the aisles. Marty Bentley arrived, and grew up behind a cash register. (If he had a nickel for every time he heard his mom persuading somebody to buy Bridge of Birds, that kid would be rich.)
Everybody really did know Alice. The hardcore fans, the avid genre readers, the casual visitors, the Magic: The Gathering players... she helped them all find what they were looking for, and earned a reputation as one of Chicago's best booksellers. She knew the literature through and through.
Bookselling changed as the Nineties wore on. The store moved twice, to Belmont Avenue and then to Evanston. After fifteen years, Alice decided to close the store. It was sad to see it go, but it had been great while it lasted.
The Bentleys moved to the Seattle area, establishing themselves on Vashon Island in Puget Sound. They ride ferries a lot. Right now, Alice is pursuing study for a Master of Business Administration at Seattle University's Executive Leadership program.
"It may seem boring," she told me, but she thinks of herself as a kind of anthropologist, "studying the peculiar worldview of corporate life."
"Are you sure it's okay for me to repeat that in the program book?" I asked.
"Sure, why not?" said Alice.
"Well, a prospective employer might google it up."
"That's okay," she replied. "Wouldn't they rather that I learn their odd customs?"
Hard to argue with that.
Now Alice has returned to Chicago — if only for the weekend. If you have not yet made her acquaintance, you will enjoy doing so.
Originally published in the Capricon 30 program book, in 2010. Alice Bentley was the Fan Guest of Honor.
Later reprinted as part of Higgins's Lives of the Fans, a series of essays about science fiction fans he knows, posted to Bill Higgins' blog on Livejournal at http://beamjockey.livejournal.com/171589.html.