Kaja Foglio: Artist, Writer, Web-Slinger, and Mom
By Alice Bentley
I've known Phil since the mid-1970s, but it wasn't until the early 1990s that tales of Kaja started to percolate through the aether. We heard vague rumors of doings with the Society for Creative Anachronism and fascinating art projects.
Then she and Phil both came to Chicago for Chicon V, the 1991 Worldcon, and Kaja was deluged with all of Phil's Midwest friends at once. She survived the experience with panache, and we were all delighted, but not surprised, when the two of them got married in 1993.
Kaja's career as a professional artist began straight out of college. After graduating from the University of Washington she launched into prominence in the gaming world with Magic the Gathering, where she has done the artwork for more than half-a-hundred cards, starting with the Arabian Nights Expansion.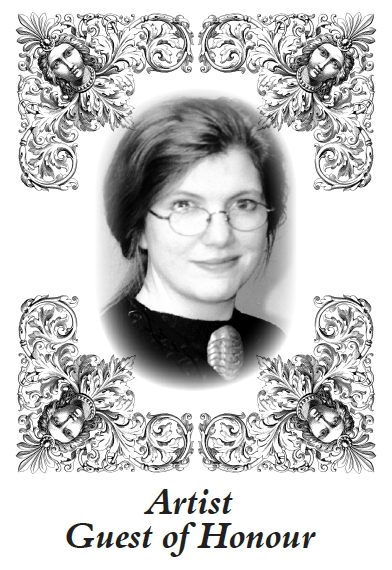 You can see some of the breadth of her talent in her eight-page comic "The Cat on the Dovrefjell." Written and penciled by Kaja, and published in Aeon's Last Dangerous Christmas, it's a great showcase for an adaptation of a traditional folktale that manages to stay true to tradition while incorporating new elements. But you don't need to take my word for it — she has put the story up at www.girlgeniusonline.com/ stories/dovrefjell/dovrefjell_01.php
The two of us got to know each other a little better in 1998, when I was putting together a reprint edition of Barry Hughart's three fantasy novels, collectively known as The Chronicles of Master Li and Number Ten Ox. I knew from the very first who I wanted for the cover art, but time, projects, and enthusiasm conspired to have her do six full page interiors and all of the incidental art as well.
These days Kaja's excellent storytelling, painting, drawing, and writing are overshadowed by her graphics design chops, as she does all the lettering, final layout, cover designs, and printing prep for Girl Genius and other Studio Foglio titles, as well as all the web-wrangling.
It was while she and Phil were searching for a term that summed up the look of Girl Genius — which, after all, is not very punk-y and doesn't run just on steam — that Kaja coined the phrase "Gaslamp Fantasy."
The fact that she was already conversant with HTML in 2005 was an important factor in the world-shaking shift of taking Girl Genius from quarterly issues in the comic shop to being posted free on the web.
When your day job is making comics, it's a good idea to have some serious fun to unwind with. Just get her started talking about shojo manga and anime, or the newest version of Legend of Zelda, or the latest (or should that be earliest?) steampunk fashions, or the great new craftwork that's in pieces in the studio, and the hours just melt away.
For the Studio as well, the lists of upcoming, ongoing, in progress, and future projects are literally too numerous to list, but I look forward gleefully to whichever one reaches the top of the stack next. So many projects, so little time.
Written for Windycon XXXVI, held in Lombard, IL, in 2009. Kaja Foglio was an Artist Guest of Honor, as was her husband, Phil. Bill Higgins wrote Phil's bio, while Alice Bentley wrote this one.